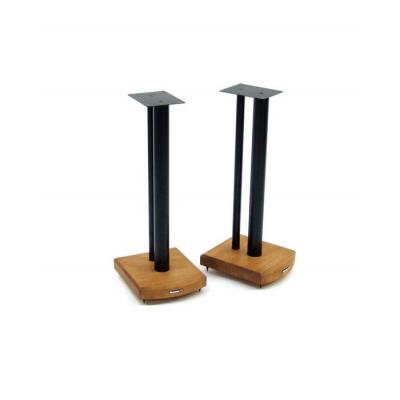 Moseco speaker stands combine all the aesthetic and sonic Benefits of Bamboo with the adaptability, strength and stability of twin carbon steel poles. These poles consist of a 50mm front column and a 28mm rear column which features cable management.
The Moseco speaker stand range not only look good on their own, they also perfectly compliment the award winning Atacama Eris, Evoque and Elara hifi racks both in colour and style, as well as making an ideal complement to most small to medium sized bookshelf speaker finishes.
To those wishing to improve the performance from their speakers further, all Moseco's are able to have the front column part filled with sound dampening material (one tub of Atabite SMD-Z7.5HD is ideal for Moseco 5 and 6, 2 tubs of Moseco 7 and 3 tubs for Moseco 10). The optional Mass Loading Baseplate pack can also be fitted to add weight and stability if required.
All Moseco's come with adjustable M6 floor spikes (spike shoes are available as an option to protect delicate floor coverings) and mini gel pads that can be fitted to the top plate to protect the base of your loudspeakers.
Moseco speaker stands are made in the UK.
Dimensions
Overall height excluding floor spikes:-
Moseco 5 500mm (19.7") Moseco 6 600mm (23.6"), Moseco 7 700mm (27.6"), Moseco 10 1000mm (39.4")
Top Plate Width 130mm (5.2")
Top Plate Depth 170mm (6.7")
Base Panel Width 240mm (9.5")
Base Panel Depth 280mm (11")
Maximum Weight Capacity per stand 7.5Kg
Bamboo is a natural product, so some slight colour variance between panels will be present and the colours will mature over time or if left in direct sunlight.
Atacama Audio source all Bamboo used in their products directly from sustainable forests.